Sunil J. Advani, MD, Appointed Co-Leader of the Cancer Biology and Signaling Program of the Moores Cancer Center
June 7, 2023 | Sunil J. Advani, MD, as the new Co-Leader of the Moores Cancer Center (MCC), Cancer Biology and Signaling (CBS) Research Program, will join current Co-Leader, Jing Yang, PhD at the helm of the program.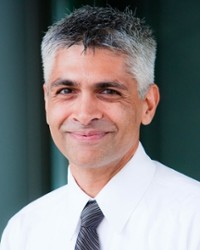 Dr. Sunil J. Advani is a physician-scientist, board-certified Radiation Oncologist at UC San Diego Health, and Professor in the UC San Diego, School of Medicine. Dr. Advani studies the tumor-targeted delivery of anti-cancer agents in combination with radiotherapy for locally aggressive tumors. Primarily a lab-based researcher, Dr. Advani possesses broad training in pre-clinical studies of cancer therapy resistance and the development of novel anti-cancer strategies that incorporate radiotherapy. Dr. Advani maintains an active radiation oncology clinic at the UC San Diego, South Bay Radiation Oncology facility, where he provides multi-disciplinary care for area cancer patients.
Dr. Advani has served as PI on several NCI and University of California funded grants, which include an NCI R37 MERIT Award, an NCI R21, and a recently awarded NCI R01 grant.
Following the completion of his medical residency training, Dr. Advani was recruited to the UC San Diego Division of Radiation Medicine and Applied Sciences under the mentorship of the late Roger Y. Tsien (2008 Nobel Prize in Chemistry), when he began his efforts on two critical and complementary aspects to improve cancer radiotherapy: identifying potent radiosensitizers and targeting drug delivery to tumors. This work was the first to identify auristatins radiosensitized cells in the single nanomolar range (Buckel et al., Cancer Research, 2015).
____
Dr. Advani is stepping into the role previously held by Kun-Liang Guan, PhD, Distinguished Professor of Pharmacology at the UC San Diego, School of Medicine. Dr. Guan, a pioneer in cancer signaling pathways, is stepping away from the administrative role to emphasize his research. Dr. Guan received the American Society of Biochemistry and Molecular Biology Young Investigator Award, the MacArthur Fellowship, and is a Fellow of American Association for the Advancement of Science. He has made key contributions to the MAP kinase, mTOR, and Hippo signaling pathways. Additionally, Dr. Guan has published over 300 peer-reviewed papers and is a highly cited researcher in molecular biology and genetics. Moreover, Dr. Guan is co-founder of OncoImmune, a clinical-stage biopharmaceutical company that is actively engaged in the discovery and development of drugs for cancer and autoimmune disease.
"Dr. Guan has provided outstanding partnership to Dr. Yang and exceptional leadership for the MCC CBS Research Program. We thank him for his incomparable, dedicated service and welcome his ongoing research collaboration," said Joseph Califano, MD, Director of Moores Cancer Center at UC San Diego Health.
"We welcome Dr. Sunil J. Advani to his new role in MCC leadership as a strong, new partner to Dr. Yang, and kudos to Dr. Guan for his service to cancer biology and signaling research at San Diego's only NCI-designated Comprehensive Cancer Center."
Established in 1978, the UC San Diego, Moores Cancer Center is not only one of just 53 National Cancer Institute (NCI) designated Comprehensive Cancer Centers in the United States, but also the only one operating in the San Diego region. Moores Cancer Center delivers discoveries from the laboratories of UC San Diego, La Jolla Institute for Immunology, and San Diego State University, through the highly ranked cancer services of UC San Diego Health. Studies show that outcomes are better at NCI-designated Comprehensive Cancer Centers. Indeed, the cancer services of UC San Diego Health have been ranked #1 in San Diego, with 10 specialties ranking nationally, by U.S. News & World Report, as reported in its 2022–2023 "Best Hospitals" survey.