About the

Moores Cancer Center
at UC San Diego Health
#1 in San Diego
Established in 1978, Moores Cancer Center is one of just 53 National Cancer Institute-Designated Comprehensive Cancer Centers in the United States, and the only one in the San Diego region. Such centers are prominent among the leading institutions in the nation dedicated to scientific innovation and clinical excellence. This designation — reserved for centers with the highest achievements in cancer research, clinical care, education and community contributions — makes an enormous difference to our patients. Studies show that outcomes are better at NCI-designated centers. Our cancer services were ranked #1 in San Diego, with 10 specialties ranking nationally by U.S. News & World Report in its 2022-2023 "Best Hospitals" survey. Learn more about this award.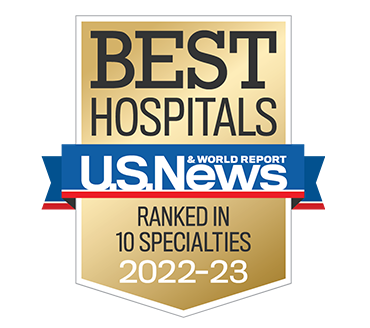 Our Mission and Vision
Our mission is to save lives by transforming cancer prevention, detection and care. Our vision is to make personalized cancer medicine a reality by creating, translating and disseminating exceptional cancer science and medicine. Our unique "bench-to-bedside" approach to cancer research and patient care supports the broadest range of cancer activities in the San Diego region. From research in molecular genetics to the most advanced treatments, Moores Cancer Center is at the forefront of the fight against cancer, developing promising new therapies and making them available to cancer patients throughout the region. Our model for providing patient care features a multidisciplinary team approach. These teams include specialists from a variety of disciplines such as medical, surgical and radiation oncology, pathology, diagnostic radiology, nuclear medicine, nursing, social work, genetic counseling and more, who meet regularly to discuss the best options available for each patient. Using the advice from this group of experts, patients can then decide with their primary physician on the best course of treatment.
Our Building
In 2005, Moores Cancer Center dedicated its new home on the east campus of UC San Diego Health, adjacent to Jacobs Medical Center. The new facility unites cancer-related research laboratories, clinical trials, prevention and outreach programs, and clinical care under one roof. The building comprises two structures — a three-story facility for clinical services and administration, and a five-story research tower — that share a common base. This design encourages interaction and intellectual exchanges between our world-renowned clinicians and researchers. This beautiful building was designed with you and your family in mind. In 2008, it was awarded an Orchid Award for excellence in architecture by the San Diego Architectural Society, as it brings nature into the building and surrounds a bamboo courtyard. All of the services that you might need are located within the first two floors. Moores Cancer Center is for outpatient treatment only — procedures that require an overnight stay are usually performed at Jacobs Medical Center.