MCC Membership
MCC Membership is available to those who have an interest in cancer, delivery of cancer care, cancer-related research, cancer clinical trials, and training. This includes faculty, physicians, advanced practice providers, and fellows/trainees/students at the University of California, San Diego (UCSD), Rady Children's Hospital, San Diego State University (SDSU), La Jolla Institute (LJI), Scripps Research (SR), J. Craig Venter Institute (JCVI), or another non-NCI-designated institution within the MCC catchment area. Members of other NCI-designated cancer centers are not eligible. 
Membership categories include Full Member, Associate Member, Member in Training (open to UCSD, Rady Children's, SDSU, and LJI), and Affiliate Member (open to SR, JCVI, or another non-NCI-designated institution). Specific qualifications for membership within a particular category are outlined below.
Criteria & Categories
Full Member
​To be eligible for Full Member status you must satisfy the following:
Have a faculty appointment at UCSD, Rady Children's Hospital (with a UCSD appointment), SDSU, or LJI.

Actively conduct basic, translational, clinical, or population-based cancer research. 

Have recent publications that are relevant to cancer and/or cancer actively focused. Click here for cancer keywords.
and satisfy at least one of the following requirements:
Hold current cancer research grants from the National Cancer Institutes (NCI) or an NCI-approved peer-reviewed agency or organization (see list below) as principal investigator (PI).

Grants must be cancer-related

and sponsored by an NCI-approved peer reviewed agency. 
** Research projects funded by the non-NIH organizations with peer review funding systems listed here. 
Conduct clinical research as a PI on investigator-initiated trial(s) that accrue a minimum of five patients per year to therapeutic clinical trials.

Be a member of an NCI Sponsored Cooperative Group (National PI or Study Chair, PI on U10/UM1 grant, NCTN Committee Chair, etc.).

Hold a cancer center leadership position(s) in a shared resource and/or a leadership position in a cancer-relevant organization on a national or international level.
Associate Member
Associate Member status is available to investigators at UCSD, Rady Children's Hospital (with a UCSD appointment), SDSU, and LJI who have active cancer-related clinical trial involvement and/or cancer-related publications, but who do not yet meet all the qualifications for Full Member (detailed above).
Member in Training
Member in Training status is available to undergraduate students, graduate/medical students, postdoctoral fellows, residents, or clinical fellows at UCSD, Rady Children's Hospital, SDSU, and LJI who engage in at least 80% effort in cancer research/care.
Affiliate Members
Affiliate Member status is available to investigators (faculty and trainees) at J. Craig Venter Institute (JCVI), Scripps Research (SR), or another non-NCI-designated institution within San Diego County.
Benefits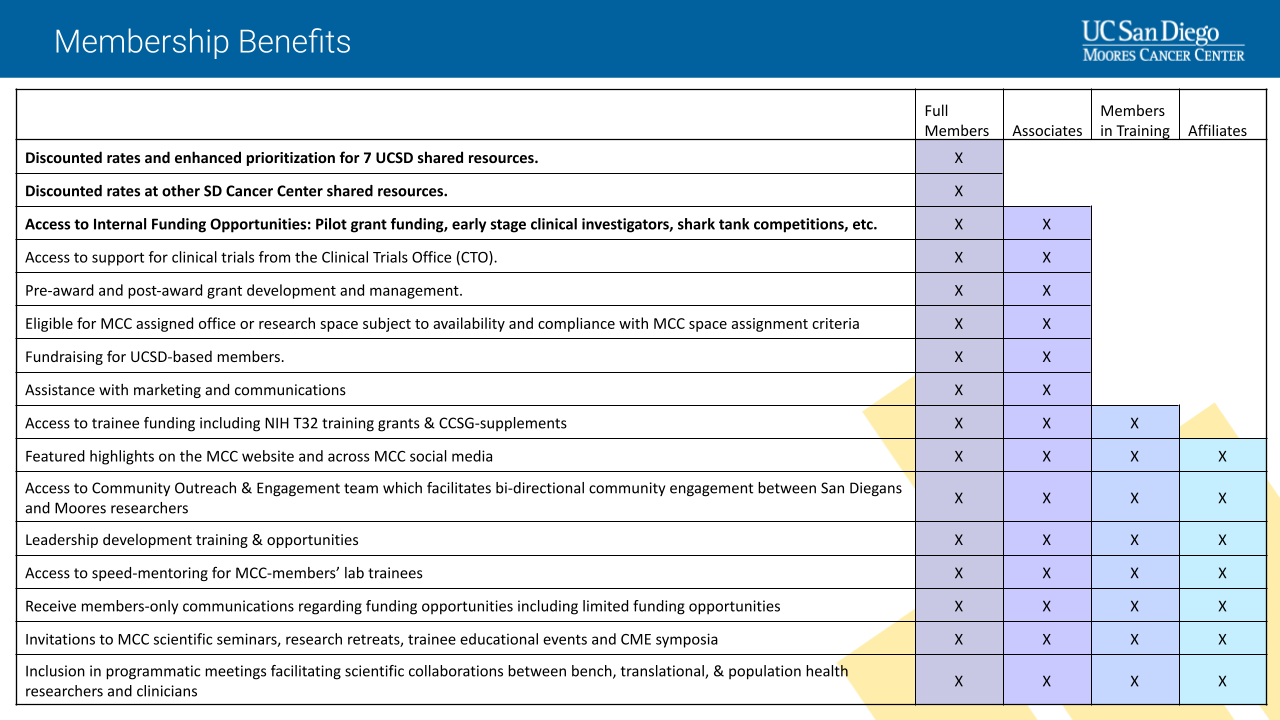 Examples of shared resources are:
UCSD - MCC
Biorepository and Tissue Technology
Biostatistic
Biobehavioral
Flow Cytometry
In Vivo Imaging
Microscopy
Radiation Medicine
Transgenic Mouse Core
Sanford Burnham Prebys Cancer Center
Chemical Library Screening Core
Functional Genomics Core
Cancer Metabolism Core
Salk Cancer Center
Gene Transfer, Targeting and Therapeutics Core (GT3)
Transgenic Core (TG)
Mass Spectrometry Core
Expectations
​All Members are expected to contribute to MCC through the following, as applicable for your level of membership:
Support MCC's Strategic Plan, mission, goals, and priorities.

Secure funding as a principal investigator and/or develop investigator-initiated trials and accrue patients to MCC clinical trials, cooperative, and other MCC clinical trials, where possible.

Publish cancer research articles in peer-reviewed journals. List MCC as an affiliation on publications if occupying MCC space or if supported by developmental or intramural grant funding or having utilized MCC Shared Resources.

Participate actively in program activities, 50% of monthly activities, i.e., a minimum of 6 meetings per year that include MCC sponsored seminars, committees, retreats, lectures, and forums. 

Participate in Moores Cancer Center committees when requested.

Sustain evidence of cancer-related publications and grants and interactions with other MCC members as defined by joint publications, joint grants, or joint research activities.

Demonstrate collaboration and interaction with other MCC members, and promote interdisciplinary, multi-investigator research efforts (P01s, U01s, SPOREs, etc.).

Provide MCC with an updated curriculum vitae (CV), including all publications and research support, NIH Biosketches, or Other Support pages at least annually but more often if requested.

Provide information to MCC on cancer studies (including new grant applications, up-to-date patient accrual information, and external audit reports) regardless of whether MCC shared resources have been utilized.

Submit all UC San Diego-based cancer-related studies involving humans and/or human specimen data to the MCC Protocol Review and Monitoring Committee prior to or concurrently with submission to IRB.

Demonstrate commitment to teaching; participate in educational and/or training programs related to cancer.

Participate in an annual member survey (e.g., shared resources) and to assist MCC in its strategy and service planning efforts.

Full Members and Associate Members in good standing, i.e. that meet all membership requirements, will submit a membership renewal application every 3 years. See membership reappointment details below.

Members in Training and Affiliate Members are to submit a membership renewal application every 5 years.

Submit therapeutic clinical trial protocols conducted at UCSD through MCC CTO.
Application & Review
Membership will be reviewed and renewed every three years based on membership criteria.
Initial and renewal applications will be reviewed by the Senior Leaders Council, which will serve as the Membership Committee. Recommendation for membership will be provided to the MCC Director. The MCC Director has final authority on approval, disapproval, or termination of membership. Final approval and notification to the candidate for membership and status will be provided by the MCC Director.
If you are interested in applying for MCC membership, please complete and submit our electronic membership application form.


Required information/documents for application:
Demographic Information.
Membership Type.
Summary of Cancer Research with Keywords.
Collaborations.
Shared Resources/Program Affiliation Request.
Areas of Interest.
Documents:
Current Statement of interest in joining the MCC and research focus (1,500 words maximum).
Current NIH biosketch.
Current Curriculum Vitae.
Professional Headshot/Photo.
Membership Review:
The Cancer Center Support Grant Senior Leadership Council (CCSG SLC) will review eligibility of the applicant and determine appropriate membership category and P30 CCSG Program affiliation for Members/Associate Members. The Committee members include the following and other ad hoc members as appointed by the MCC Director:
CCSG Senior Leadership Council.
Director.
Deputy Director.
Deputy Director for Administration.
Associate Director for Basic Sciences.
Associate Director for Clinical Sciences.
Associate Director for Population Science, Disparities and Community Engagement.
Associate Director for Shared Resources.
Associate Director for Research Education and Training.
Program Director(s), Cancer Biology and Signaling.
Program Director(s), Structural and Functional Genomics.
Program Director(s), Cancer Control.
Program Director(s), Hematologic Malignancies.
Program Director(s), Solid Tumor Therapeutics.
Membership Reappointment:
During the period of preparation for EAB review or NCI designation, all Members and Associate Members will have their membership status reviewed for reappointment. Reappointment review will evaluate membership criteria and activities associated with membership responsibilities, as detailed above. As a consequence of review, members may have their membership category changed or terminated. In addition, members who join another NCI-designated cancer center will have their membership terminated.
Apply for Membership
To begin the application process please visit the Membership page.
start application