Jason Sicklick, MD, FACS Appointed Co-Leader of the Structural and Functional Genomics Research Program of Moores Cancer Center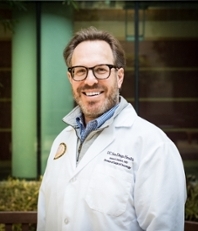 Jason Sicklick, MD, FACS has been appointed as the new Co-Leader of the Moores Cancer Center (MCC), Structural and Functional Genomics (SFG) Research Program, and will join current Co-Leader, Jill Mesirov, PhD at the helm of the program.
Dr. Jason Sicklick is an R01-funded investigator who specializes in (1) the treatment of complex retroperitoneal and abdominal sarcomas—in particular, gastrointestinal stromal tumors (GIST) and (2) hepatobiliary oncology. Dr. Sicklick has received many accolades for his contributions to advancing GIST treatments, which include the 2021 Rare Impact Award from the National Organization for Rare Disorders (NORD). He has co-authored over 130 peer-reviewed articles, and the findings of his research have appeared in Nature Medicine, Nature, and Gastroenterology.
Dr. Sicklick brings extensive leadership experience from appointments that date back to his surgical residency at The Johns Hopkins Hospital, where he became the Administrative Chief Resident. Dr. Sicklick, who joined UC San Diego Health in 2010, was appointed as Executive Vice Chair of Research in the Department of Surgery at the UC San Diego, School of Medicine in 2020. In addition, he serves as Leader of the Sarcoma Disease Team at MCC, and previously he was the Deputy Director for Clinical Collection of the MCC Biorepository and Tissue Technology Shared Resource.
Dr. Califano is transitioning away from serving as Co-Leader of the SFG Research Program to focus his efforts as MCC Director.
"I could not be happier to have Dr. Sicklick assume this role, alongside Dr. Mesirov, who brings more than 20 years of leadership in computational biology and analysis of complex genome-scale cancer datasets to the program," said Joseph Califano, MD, Director of Moores Cancer Center at UC San Diego Health.
"As Dr. Mesirov also serves as Associate Vice Chancellor for Research and is responsible for the overarching strategy for computational health sciences and research computing at the UC San Diego, School of Medicine, Dr. Sicklick will be in good company as SFG Co-Leader."
The breadth of expertise and interdisciplinary nature of these two SFG leaders (i.e., experimental, computational, and translational) will further position MCC to lead in the field. Under their collective leadership, SFG will continue pursuing innovative solutions to the challenge of integrating large scale datasets to define candidate clinical tools and therapeutic targets for the benefit of cancer patients in the MCC catchment area and beyond.
Established in 1978, the UC San Diego, Moores Cancer Center is not only one of just 53 National Cancer Institute (NCI) designated Comprehensive Cancer Centers in the United States, but also the only one operating in the San Diego region. Moores Cancer Center delivers discoveries from the laboratories of UC San Diego, La Jolla Institute for Immunology, and San Diego State University, through the highly ranked cancer services of UC San Diego Health. Studies show that outcomes are better at NCI-designated Comprehensive Cancer Centers. Indeed, the cancer services of UC San Diego Health have been ranked #1 in San Diego, with 10 specialties ranking nationally, by U.S. News & World Report, as reported in its 2022–2023 "Best Hospitals" survey.