Leslie A. Crews, PhD Appointed Co-Leader of the Hematologic Malignancies Research Program of Moores Cancer Center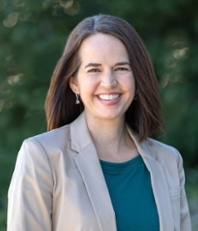 Leslie A. Crews, PhD, Assistant Professor of Medicine, Division of Regenerative Medicine at UC San Diego, as the new Co-Leader of the MCC Hematologic Malignancies Program, joining current Co-Leader, Thomas Kipps, MD, PhD, Professor of Medicine, Evelyn and Edwin Tasch Chair in Cancer Research.
Dr. Crews develops new therapies for multiple myeloma and other age-related disorders. Her ground-breaking research in translational cancer research (leukemia and myeloma), hematology, and neuroscience has resulted in numerous cell-based models and molecular assays that are being applied to the development of new diagnostic and therapeutic technologies for cancer and regenerative medicine. Dr. Crews has co-authored over 65 peer-reviewed manuscripts, with more than 12,000 total citations, and the results of her research appeared as the cover image for the November 2016 issue of Cell Stem Cell. Furthermore, she identified the first splice isoform signature of human blood stem cell aging and leukemic progression and developed unique RNA splicing and editing-specific detection tools.
Dr. Crews holds leadership roles in the National Center for Leadership in Academic Medicine (NCLAM) and the UC San Diego Health Leadership Academy (HLA). In addition, she has served as principal investigator at UC San Diego, directing cancer research that is currently funded by an NCI R37 grant and the Leukemia Research Foundation's Hollis Brownstein Young Investigator Award. Through collaborations with clinical experts at MCC, Dr. Crews leads an ongoing tissue biobanking program, which collects primary patient samples that are essential to treating and preventing cancer.
Dr. Crews assumes a leadership role previously held by Catriona Jamieson, MD, PhD, a leading physician-scientist in cancer stem cell biology and Professor of Medicine, Koman Family Presidential Endowed Chair in Cancer Research, and Director of the Sanford Stem Cell Clinical Center at UC San Diego.
Dr. Jamieson will continue her scientific leadership in research and novel cancer treatments as the inaugural Sanford Stem Cell Center Director. Her discoveries have informed the development of cancer stem cell targeted therapies, which have been FDA approved to treat myeloproliferative neoplasms and leukemia. At MCC, Dr. Jamieson expanded research in hematologic malignancies to include analysis of the events involved in the initiation and progression of various blood cancers. In addition, she has developed novel therapeutic strategies to improve the quality of life of people battling these diseases, with the goal of developing curative therapies that will obviate therapeutic resistance and disease relapse.
"As an outstanding collaborative partner to Dr. Kipps, Dr. Jamieson has provided exceptional leadership for the MCC Hematologic Malignancies Research Program, and we thank her for her dedicated service and welcome her ongoing research collaboration," said Joseph Califano, MD, Director of Moores Cancer Center at UC San Diego Health.
"We welcome Dr. Crews to her new MCC leadership role to help guide hematologic malignancy research, with Dr. Kipps, at San Diego's only NCI-designated Comprehensive Cancer Center."
Established in 1978, the UC San Diego, Moores Cancer Center is not only one of just 53 National Cancer Institute (NCI) designated Comprehensive Cancer Centers in the United States, but also the only one operating in the San Diego region. Moores Cancer Center delivers discoveries from the laboratories of UC San Diego, La Jolla Institute for Immunology, and San Diego State University, through the highly ranked cancer services of UC San Diego Health. Studies show that outcomes are better at NCI-designated Comprehensive Cancer Centers. Indeed, the cancer services of UC San Diego Health have been ranked #1 in San Diego, with 10 specialties ranking nationally, by U.S. News & World Report, as reported in its 2022–2023 "Best Hospitals" survey.